Fabric Detectable Bandages, Fingertip Large, 4.4 x 7.6 cm, Lightweight, 50/Box #03199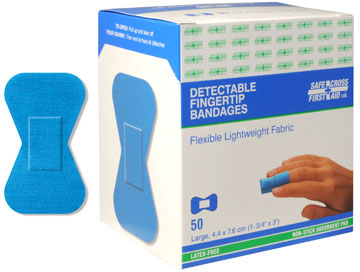 $ 11.75 CAD
Product Description
High-quality fabric metal detectable bandages cushion wounds and offer protection against infection for minor cuts, scrapes, abrasions and burns
Made of high-quality cotton woven fabric
Provides coverage and protection for hard-to-bandage fingertip and toe areas
Strong adhesive allows the dressing to stick and stay in place
Highly absorbent, non-adherent pad keeps the wound clean and dry for faster healing
Island pad construction seals out dirt and contaminants
Ventilation holes let moisture out while allowing air in for faster healing
Bright blue colour and metallic content allow for misplaced or lost bandages to be easily detected and retrieved
Recommended for use in the food and restaurant industries
Latex-free
abric Detectable Bandages, Knuckle, 3.8 x 7.6 cm, Lightweight, 50/Box #03198
$ 9.75 CAD
Product Description
High-quality fabric metal detectable bandages cushion wounds and offer protection against infection for minor cuts, scrapes, abrasions and burns
Made of high-quality cotton woven fabric
Provides coverage and protection for hard-to-bandage knuckle and elbow areas
Strong adhesive allows the dressing to stick and stay in place
Highly absorbent, non-adherent pad keeps the wound clean and dry for faster healing
Island pad construction seals out dirt and contaminants
Ventilation holes let moisture out while allowing air in for faster healing
Bright blue colour and metallic content allow for misplaced or lost bandages to be easily detected and retrieved
Recommended for use in the food and restaurant industries
Latex-free
Conforming Stretch Bandages, 10.2 cm x 3.7 m, 12/Package #02544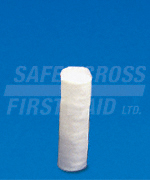 $ 9.80 CAD
Product Description
Soft, lightweight 1-ply stretch rayon/nylon blend conforming bandage provides low compression and non-slip support
Ideal for securing and retaining general dressings
Bandages conform and hold securely to any body contour while allowing patient movement and soft tissue swelling
Suitable for bandaging irregular extremities and body surfaces, including the head, joints and stumps
Air-permeable and absorbent; promotes wound aeration, evaporation of perspiration and exudate (discharge) for faster healing
Will not stick to skin or clothing
Rolls are 3.7 m (4.1 yds) in length when stretched
Gauze Pads, 10.2 x 10.2 cm, Sterile, 100/Box #03222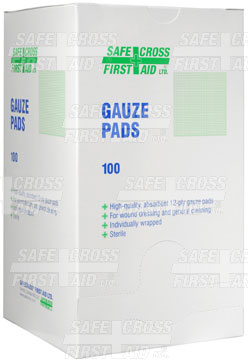 $ 18.80 CAD
Product Description
High-quality, absorbent 12-ply gauze pads
For wound dressing and general cleaning
Individually wrapped in water-resistant, tamper-proof packaging
Cederroth, Soft Foam Bandage, Blue, 6 cm x 2 m #07815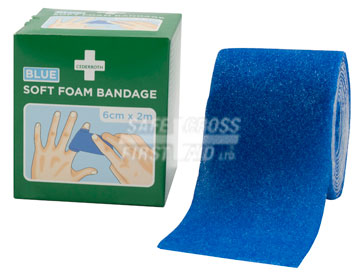 $ 28.00 CAD
Product Description
Self-adhesive foam bandages help to protect healing wounds
Protects fingers and hands from industrial hazards and improves grip
Does not stick to skin or hair
Can be used wet/dry or in hot/cold conditions.
Available in Tan or Blue for use in the food and restaurant industries
Compress Bandage, Emergency Trauma Dressing, 9.5 x 17.8 cm, Each #02880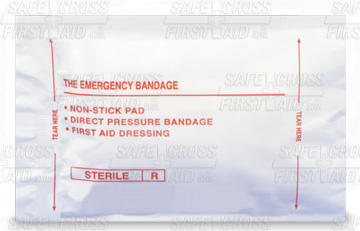 $ 12.00 CAD
Product Description
Easy-to-use, one-piece compress bandage for the treatment of heavily bleeding injuries and trauma
Stops blood flow efficiently and applies pressure directly to the wound site
Patented design uses a unique pressure bar that applies pressure and facilitates various bandaging options for dressing the wound
Non-adherent pad features a super-absorbent inner layer and will not stick to the wound
Includes white rubber elastic tails for extra compression and a secure, comfortable fit
Consolidates numerous treatment devices into a single unit; no need for separate primary and secondary dressings, pressure applicators, tourniquets or closures
Straight-forward and simple to apply; can be applied with one hand
Packaged in waterproof polyethylene pouches
Pad measures: 9.5 x 17.8 cm (3-3/4" x 7")
Bandages are 3.7 m (4 yds) in length when stretched
Transpore, Surgical Plastic Tape, 2.5 cm x 9.1 m, 12/Box #07275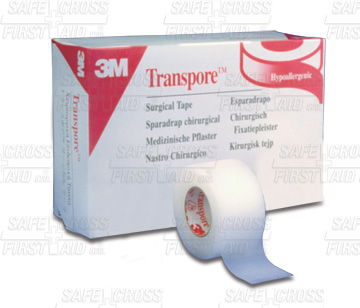 $ 35.00 CAD
Product Description
Clear, easy-to-tear, perforated plastic tape
Ideal for securing bulky dressings
Stretches and conforms to body contours for greater holding power; suitable for active, hard-to-bandage areas such as knees, elbows or fingers
Transparent for visualization of the skin and wound monitoring
Perforated for easier, bi-directional tearing
Easy to manage - even with gloves
Leaves little or no residue
Latex-free
Wet Dressings, Isotonic Saline, 10.2 x 20.3 cm, 2/Pk, Sterile, 24/Box #04694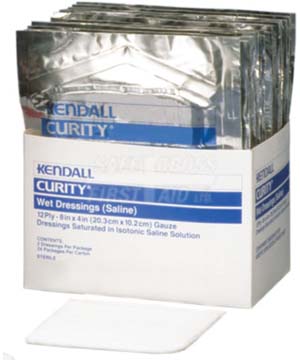 $ 119.00 CAD
Product Description
Compact pre-saturated gauze dressings for wound cleansing
Ideal for treatment of infected wounds, traumatized tissue and other dermatological conditions
Eliminates the need to assemble numerous components
Suitable for continuous-soak therapy
Can be used hot or cold
Packaged in a protective foil pouch
Each tray contains 24 pouches each with 2 dressings
Dimensions: 10.2 x 20.3 cm (4" x 8")
Hand Sanitizer, Antiseptic Gel, 473 mL #06161
$ 14.90 CAD
Product Description
Fast and easy method for sanitizing and protecting hands without the need for water, soap or rinsing
Kills common disease-causing germs and bacteria within seconds
Dries quickly without leaving a film or residue
Contains aloe to moisturize and soften the skin
Hand Soap, Antibacterial, 4 L #06155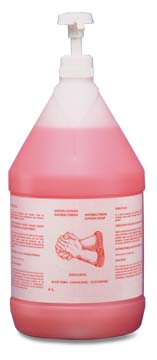 $ 22.00 CAD
Product Description
Surgical scrub, hand wash and general skin cleanser
Provides antisepsis, moisturizes and soothes the skin
Contains chloroxylenol for bacterial and fungicidal activity
Gentle and non-drying; can be used repeatedly without skin irritation
Contains emollients for general skin care
Ideal for first aid room use and professional health care staff
Nitrile, Medical Examination Gloves, Powder-Free, Large, 100/Box #18751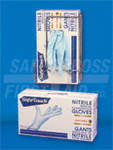 $ 18.99 CAD
Product Description
Ambidextrous, disposable nitrile medical examination gloves minimizes contact between the caregiver and patient
Prevents direct contact with blood and other bodily fluids
Offers high puncture resistance and increased tactile strength
Essential for all first aid and emergency needs
Ideal for health care professionals and latex sensitive users and patients; contains no natural rubber latex or latex proteins
Meets or exceeds all Canadian and American regulations and standards
Beaded cuff
Prowder-free
CPR Mask w/One-Way Filter in Plastic Case Oxygen Valve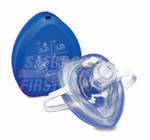 $ 14.90 CAD
Product Description
Reusable physical protection barrier.
Used as a physical barrier to prevent the victim's breath and bodily fluids from reaching the rescuer.
One-way valve and directional diaphragm prevents back-flow of air and contaminants.
Innovative construction includes a specially designed viral and bacterial filter for extra protection.
Medical-grade thermoplastic mask for effective ventilation through both the nose and mouth.
Features a soft inflated cuff for a leak-proof seal and added patient comfort.
Includes an oxygen inlet for optional supplemental oxygen.
Packaged in a compact, hard shell carrying case.
Complete with head strap.
Sam Splint, 10.8 x 91.4 x 0.5 cm #14515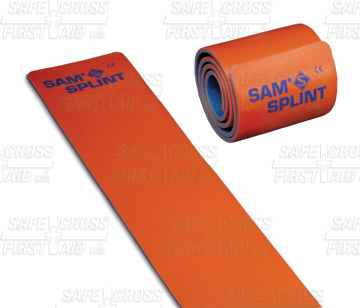 $ 18.99 CAD
Product Description
Foam padded aluminum splint folds or bends for immediate practical use in emergencies
Flexible, waterproof, malleable and reusable
Ideal to immobilize almost any bone in the body
Easily secures to the body with the use of roller gauze or tape
Won't stick to wounds
Radiolucent - does not have to be removed for x-rays, reducing the risk of further injury to the patient
Versatile and lighweight - can be rolled or folded to fit easily in emergency kits and backpacks and won't puncture or be affected by temperature or altitude
Waterproof and can be cleaned with disinfectant for reuse
Ambu Perfit Ace, Extrication Collar, Adjustable, Sizes 3-6 #14970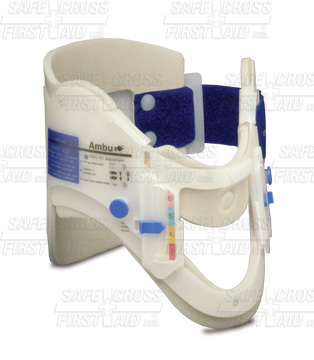 $ 35.90 CAD
Product Description
Features comprehensive sizing system and one piece application for a perfect fit on patients, ranging from neckless (size 3) to tall (size 6)
Rigid one-piece construction - no assembly required
Radiolucent, CT and MRI compatible
No post to break
Extra large trachea opening
Flip chin piece allows for intubations and airway management
Large genuine Velcro closures
Folds completely flat for storage
Thermometer, Ear, Braun Thermoscan w/21 Lens Filters #14610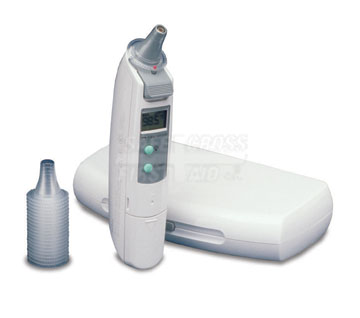 $ 139.00 CAD
Product Description
Easy to use, ear thermometer for quick and accurate temperature measurements
Complete with automatic shut-off feature, backlit display and audible beep tone when temperature measurement is complete
Displays temperature in Centigrade or Fahrenheit in a large, digital display format
Replaceable filters protect against the spread of germs
Eliminates the risk of glass breakage
Suitable for all ages
Requires 2 lithium batteries (included)
Complete with storage case and 21 lens filters
Blanket, Multi-Fibre, Grey, 152.4 x 213.4 cm #26154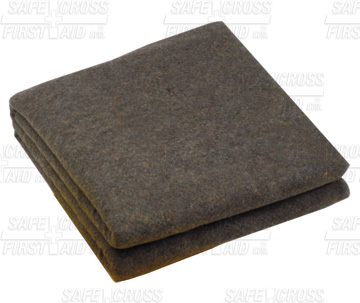 $ 13.90 CAD
Product Description
Soft, non-woven multipurpose blanket provides excellent insulation for injured patients or victims in shock
Ideal for stretchers, first aid rooms, automobiles, camping and cold weather care
Machine washable
Dimensions (width x length): 152.4 x 213.4 cm (60" x 84")